Karl Ohaus
LTG Partner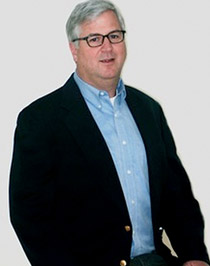 (860) 395-9875 | email ↓
There's a surefire way to tell when people absolutely love what they do. Just ask the question, "If money were no object, what would you be doing?" Karl Ohaus answers at light speed that he would do even more of what he does these days, helping companies figure out how to be better, and improving the performance and efficiency for everybody involved in the organization from top to bottom.
Karl grew up in Short Hills, New Jersey and is the great-grandson of the founder of Ohaus Scale, a manufacturer of Laboratory Balances. Karl's father was a prominent business owner and member of the community who took the time and effort to mentor Karl in the ways of business. From very early on, his father was his instructor, and he insisted that Karl participate in company events both formal and informal to learn and understand all aspects of the business. From his earliest days, he remembers going to business functions in a suit and tie, and sitting at a table with the adults, listening, and drinking in the valuable information that flowed there. On Saturdays, he would go to the post office, pick up the company mail, and then spend the morning separating it all into organized sections for his dad's review. Before leaving to attend Duke University, his father insisted that he spend a summer working on the shop floor and seeing firsthand how hard the work could be and the challenges those talented individuals faced every day.
After graduating with a degree in Mechanical Engineering, Karl worked for American Standard for 10 years as a design engineer and for his father's second business venture 1991 to 2001. After leaving the family business he started doing some consulting, and quite suddenly he knew what his life's work would be. "How can you not love this stuff?" he says. "You get up every day and you help people learn to solve their problems, and every time you do, life gets better for everybody involved. It doesn't get better than that."
Since setting sail on the consulting waters, he has had the privilege of working with the top thinkers and leaders in health care, manufacturing, and product development. His unique gift for being able to quickly understand the processes involved and to see how the pieces fit together gives him many, many opportunities to do what he loves. And he fully understands the mantle he is asked to wear and the responsibility that goes with it: "In a way, we have magical powers as consultants. Management will listen to us with a different ear, and that's a huge onus that we need to see as a privilege and treat with "reverence."
As he goes about his business each day, he carries with him his father's admonition to always be a good steward of his clients' money and time. In doing so, he – like his dad – is building a lasting legacy of over-delivering for those he serves, and that, thankfully, keeps the phones ringing.
Karl is married to Tracey, and they have three daughters and a son.