Elizabeth A. Luckman, Ph.D.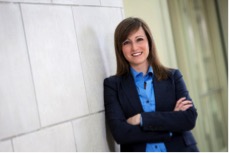 email ↓
Elizabeth Luckman is a business scholar who leans toward the "real world", with a focus on the people side of companies. She works to help organizations better navigate the challenging human dimensions of organizations, with the ultimate goal of creating value for everyone. She believes this lens, combined with a problem-solving mindset, is the best way to measurably improve performance.
Her dad, LTG partner Jim Luckman, began imparting the virtues of organizational dynamics based upon Lean principles at the inception of her business career. As a team, they focus on the primacy of the final customer and the potential of the individual employee, grounded in problem-solving methodology and animated by perpetual learning. Jim's example played a large role in Elizabeth's pursuit of advanced business studies.
After college, Dr. Luckman spent nearly a decade in luxury retailing, leading teams and working in merchandising. During her time at Neiman Marcus, she was recognized with a corporate-wide award for outstanding performance. Presently, she is the Senior Researcher in Leadership and Executive Development at the National Center for Professional and Research Ethics, University of Illinois. In this role, she assists in the creation and delivery of leadership development programming, chiefly working with primary client Nanyang Technological University, Singapore. Beginning fall, 2019, Dr. Luckman will be a clinical assistant professor on the faculty of the Gies College of Business, University of Illinois.
Elizabeth's record demonstrates success in teaching and coaching learners at all levels, in multiple settings. This record is complimented by her belief that blending the best academic ideas with hard-won experience in the world of practice creates a powerful synergy - actionable scholarship.
Dr. Luckman holds the following degrees: BA, Classical Civilization and English Literature, Wellesley College | MBA, The Ohio State University | PhD, Business Administration (Organizational Behavior), Washington University in Saint Louis.